Radion: Mobius Point Intensity vs. Schedule Intensity Explained
Overview
For Radions controlled via the Mobius app, you have the ability to adjust each individual Point Intensity and the overall Schedule Intensity. Below you will find a description of both Point and Schedule Intensity.
Point Intensity: Adjusts the brightness or intensity of the specified points. It will not adjust your color channel percentages or spectrum in any way, simply how bright the point appears. In the photo below you can see the Point Intensity is set to 100% as well as several Daytime Color channels.
Steps:
Power on all Mobius controlled devices

Open the Mobius app

Select the tank containing your Radion(s)

Select the Lighting tab and click your desired schedule point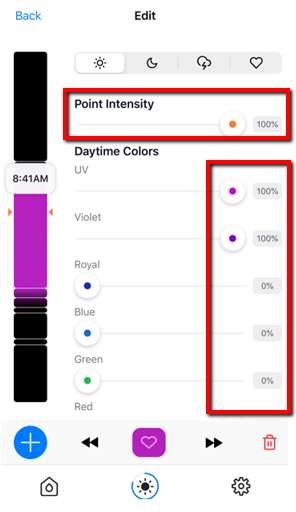 Schedule Intensity: Adjusts the brightness or intensity of your schedule as a whole and will shift all points. The shaded area represents your actual Schedule Intensity where is the dotted line displays your potential maximum Schedule Intensity. In the photo below, the Schedule Intensity is set to 50%, and the dotted line shows the 100% maximum Schedule Intensity.
Steps:
Power on all Mobius controlled devices

Open the Mobius app

Select the tank contacting your Radion(s)

Select the Lighting tab and adjust your Schedule Intensity