EcoTech Marine Parts Store FAQ
Frequently Asked Questions
How do I place an order?
The EcoTech Marine Parts Store is available 24 hours a day and can be accessed by visiting our EcoTech Marine Parts Store
When will my order ship?
All orders from the EcoTech Marine Parts Store have a 3 to 5 business day processing time prior to shipment. Selecting 2-day or overnight shipping will not influence the processing time.
Do you ship internationally?
Yes, we are able to ship worldwide. With international shipments, the buyer will be responsible for any and all customs duties and or fees.
What shipping method should I select?
We recommend using ground shipping as much of the U.S falls within a 3-day transit time. That said our office is located in eastern Pennsylvania and below is a rough estimate of FedEx transit times using "Ground" shipping.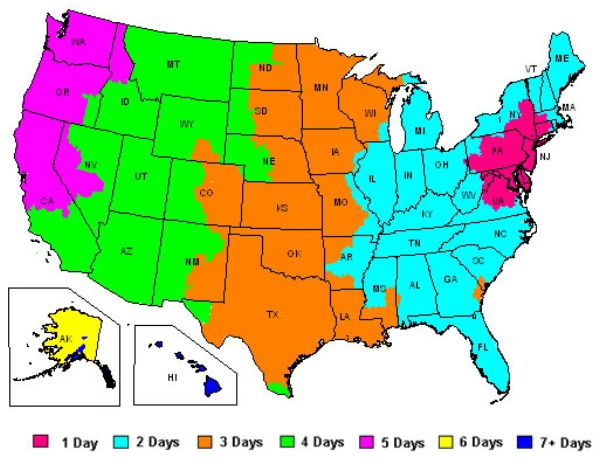 Are returns accepted?
Returns are accepted for items purchased via the Parts Store which are in brand new, sealed condition. EcoTech Marine reserves the right to charge a restocking fee, and will not refund shipping expenses. The buyer is responsible for the cost of return shipping and a Return Material Authorization is required. To complete an RMA, please click here.
Can I modify an order I've already placed?
No. Orders that have already been completed cannot be modified in any way.
How do I cancel my Parts Store order?
Orders that have not yet been shipped, can be canceled. To cancel a Parts Store order, immediately call our customer service department and have your order number ready.
Where can I find my order number?
You will be emailed an order confirmation containing your order number once your order is completed. An example order number is as follows: ETM-1xxx